Customized wine coaster set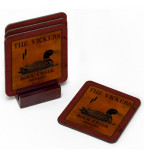 If you wish to make your family pet immortal or you like some sayings which you want to keep forever then simply get printed on these lovely coasters. These coasters can be used daily to put coffee or tea mugs or beer glasses.
Custom coaster Set at Personalizedgiftsguru
Coaster set is designed to prevent the liquor or beverages licking on the table. Coasters vary as per their material to sit on the dining table or kitchen. Here we have included three types of custom coaster set to send as a token of appreciation in joyous occasions. Let us give you the detailed information about it. If you have ever thought about sending personalized gift for wine lover, coaster online shopping is the best idea to find the best one.
About Bamboo coaster set
This square bamboo coaster set is eco friendly set can be gifted to the wine lover, a wife loves decking homes with innovative things. This is a permanent gift to deck the beer table or coffee table. Enjoy quality drinking time with an artistic bamboo coaster set personalize with two lines.
Cabin coaster set
Wood -toned magnificent cabin coaster set is ready to set the tone of party. If he or she has everything in their houses, this is the gift they might not have this type of masterpiece to adorn the house with.
Wine coaster set
Wow it is a beyond the imagination set personalized with the couple name. It is a perfect surprise for wedding anniversary or valentine day. A waterproof wine coaster set is made to make the drink time a luxury and rich time.
So here is the Personalized coaster set available to shop online any day of the year. It is a big deal for the men who feel comfort and relaxed in drinking time. It is very much suitable and perfect personalized gift for men and women loves neat and clean house.