Customized Phone and Tablet Cases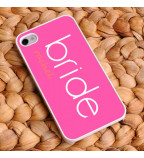 Want to buy customized phone or tablet cases? You can find best ever personalized cases for mobile and tablet with multi color. You will get free personalization and fast shipping service too. Check our collection and select your appropriate case with happiness.

Protect your iPhone in style with these colorful black-rimmed personalized cases, available in 15 ch..
$29.74

Here's a fun way to celebrate your big day! A variety of colorful and fun designs are available for ..
$22.87

The most popular design pattern is now available in our Top Selling iPhone cases! Offered in our whi..
$22.87