luggage tags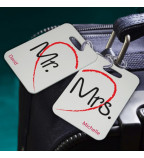 This is a fun and out of a box gift item. This unusual gift item with special personalized names or message engraved on it will make it special. Whether you want to give this item to couples going on a honeymoon or student going abroad to study this will become a special part of their journey.

Add a unique touch to any piece of luggage with these colorful Personalized Bon Voyage Luggage Tags,..
$35.48

Our fun selection of Personalized Couples Sojourn Luggage Tags are offered in styles that are perfec..
$52.66