Customized holiday gifts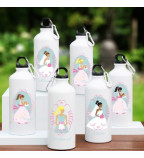 The best way to make your Christmas or Easter memorable by engraving the message with outstanding personalized gifts. Look our collection of unique holiday gifts, buy gifts for your dear one or closed one and celebrate your holiday with lots of happiness.

Sled Into The Holiday Spirit With Our Family Of Elves Ceramic Ornament.Measures 3inch In Diameter An..
$34.49

The Ideal Christmas Present For Your Favorite Newlyweds Or Newlyweds To Be, These Personalized First..
$34.49
Make Holiday Magical With Best Personalized Holiday Gifts
Double the dose of happiness with the magical gifts we have shared with you to enjoy the day around the time. Is it your baby's first Christmas holiday? Gift them baby boy's first Christmas ornament or baby girl's first Christmas ornament personalized in style.
Rejoice holidays with Christmas holiday gifts. We are full with top class gifts to enjoy this season's Santa fest. We are stocked with personalized travel tumbler to enjoy holiday trip. Midnight pocket watch is out for the men who deserve the great treat. Classic cross necklace to bible everything is customized so beautifully to save the memories for years. Personalized jewelry for men and women will add more spark to their life.
custom personalized gifts crafted to value one person, to show the self-esteem and regards to one kind person. Now you can easily send personalized gifts with online gift shop. Here you will get variable gifts with eye-catching personalization on it. It is now approved as the best gift to share emotions in style. It is better gift to execute feelings in well-behaved manner.
We are powered with efficient work team, ready to send Easter holiday gifts across the world. You are free to see any of the gifts and send it to your heartiest one's doorsteps. All you need to do is the find the gift suits to their taste. Buy and send the gifts which they will always keep themselves as your memento.
List of Personalized Holiday Gifts Ideas :
1. Deck the halls and celebrate Holiday season with our one of a kind personalized holiday gifts. Our personalized ornaments and Baptismal Cross are the perfect way to start a Christmas gift-giving tradition.
2. Our colorful holiday Customized Picture Frames are a great gift idea. Insert your latest Christmas card photo and the Grandparents will love it as a Christmas gift.
3. Customized Travel Gifts that can always remind of his favorite trips.
4. Photos of your family, you and your spouse, or simply yourself are a great way to personalize your gift-giving this Christmas Holiday. You can use the photos to create beautiful Personalized coffee mug.