Birthday Gifts for Women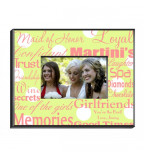 Birthday comes once in a year and one must make it surprising and memorable up to the next one. To make it memorable we bring you an array of personalized gift collection specially made for women. Photo frames, necklaces, mugs and much more which will create a special place of you in her heart.
Choose Personalized Birthday Gifts for the Women who has Everything
Birthday's are the special days for the person to feel loved. All that you can shower her on this day is gifts, love, care and lots of wishes. For a woman who has everything, becomes a tricky part to think of what to gift her. If you are into same dilemma then we are here to help you. There are few things that are always holding a special in her heart even after owning everything.
So, for a woman who has everything, a personalized gift makes a perfect choice. You can never beat the essence of personalized gifts. It simply makes every expensive gift look worthless. So personalized gifts for mom would make a great idea.
Here are some personalized gift ideas for women:

1. Personalized Gifts for Women
May it be your mom's birthday or sister's birthday you can always go with personalized gifts like Photo frame, Jewelry or mug. There are special personalized birthday gift available that enables you to personalize it with the message you wish to say! Personalizing the gift is a very touching experience for the one who receives it. It has many emotions that cannot be expressed in words, but can be felt by the heart. So go with a customized locket which has her or your name engraved on it. This would make a completely heart warming gift idea!

2. Thank you Gifts for Women
Thanking every person around you is very special gesture. It gives a motivation, happiness, and most importantly smile on their face. To thank you women for making your life the way it is and to give the happiness that you deserve, a special thank you gift would make an impact. Send her a thank you message, though personalized gift, flower bouquet or just a note and you will win her heart.

3. Unique Birthday Gifts for Women
There are many birthday gifts for her available online with customization. Personalizing it with a name, message or a picture would be impactful and heart touching gift. A photo collage with a personalized touch would be just what she must wait for. So let her day be made special.