Personalized Gifts For Ring Bearer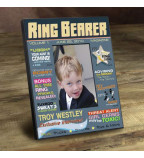 Personalized gift is a unique opportunity for you to create a special memory for your ring bearer. You and your ring bearer's best joint photo can be framed with name and date with special message to create a permanent memory of your weeding event. This personalized gift will make the ring bearer the happiest person on earth.

Let him proudly wear his title "stamped" across his chest with our personalized groomsman t-shirts. ..
$29.74