Personalized T-shirt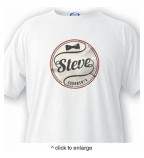 Create your own t-shirt with suggested words and date. Make something special on custom t-shirt in second that you will love forever. Browse our collection and will find many t-shirt for customize in different color with mixed cotton polyester material.

Soft 100% cotton.Machine washable.Available in men's sizes S–3XL in gray and white.Perso..
$47.19

A Personal Creations Exclusive! Get their motor running with a tee that'll never run short of fuel o..
$40.06
Create Personalized T-Shirts with Your Own Unique Touch

Personalizedgiftsguru offers enough colors, styles and sizes to create an entirely new wardrobe! Looking to make personalized t-shirts with a tie-dye style? We've got 'em. How about some personalized t-shirts with a modern round-neck? Create custom t-shirts in the styles you wear every day. Our shirt personalizer makes it easy to quickly change the font whist also allowing you to upload your own words.

In 2 easy steps you can create your own T-shirt: This is how

1. Choose a T-shirt to personalize

To the top left of the personalizedgiftsguru, click on the button gifts by category-> T-Shirt to personalize a T-shirt. You can choose from as many as 40 items. You can also filter your product search with Name, price, Model by pre-selecting buttons. You can e.g. first click on "Default" and then "name" to find all available alphabetic name t-shirt for him. Once you find the right product, just click on it. Now you will see a description of the desired product. To the right, you can click on the add to cart button.

2-Add text to your personalized T-shirt.

Personalize your groomsmen custom t-shirts or any other t-shirt with personalized text. In the T-shirt page, click on the t-shirt and then read description. You can position the text as per describe into description of your product. Text color, font and size can be set by means of selection to the right of the T-Shirt. This is also a great way to personalize gifts easily and swiftly. Now you just need to choose a quantity of your personalized product. Click on the Check out button to check out with your printed T-shirts.