Customized New Born Baby Gifts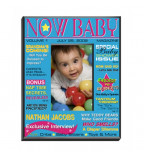 A new baby is a gift of new life. Celebrate his/her arrival with our personalized new born baby gift collection. Our collection of custom new baby gifts includes travel number, fun toys and many more. Check out all our unique baby gifts to find the right one to put your baby's stamp on.
Personalized New Born Baby Gifts
Everybody loves babies; it's just one of those irrefutable facts that we all accept. Another is that a baby's laugh can warm even the coldest of hearts. If you're looking for personalized gifts for new born baby, then you're going to find something as sweet and lovable as they are here at personalizedgiftsguru!

Baby gifts are for more than just the baby. Parents appreciate thoughtful gifts that can be both fun and useful for their child. Personalizedgiftsguru offers a wide selection of new born personalized baby gifts that range from kids height chart to useful and thoughtful. Baby water bottle come in a number of patterns and materials including sturdy eco-friendly aluminum material. Our collections of children plush toys are great gifts with high-quality materials and personalization.

If you're looking for more great gift ideas or even ideas for your own little ones, check out our selection of toys for all ages. Kid's room sign is a great addition to any room and making kids feel like they have their own special space.