Personalized Baby Shower Gifts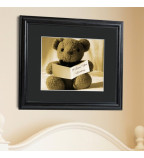 This will be the first event in baby's life, so why not give it a personal touch? You can shower the new mom with a lot of gifts which can be personalized. Gift "Baby's first photo" in a frame with personalized message and see, how this proud possession will be displayed in the house.

Personalized Home Decor is the hottest trend, now it's comfortable too! Our 16x16 soft Personali..
$34.32

Show your love with one of our Personalized Loving You Creative Message prints. Perfect for that ext..
$80.12