Customized Wedding Gifts for Her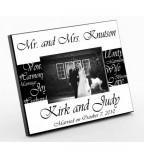 The day has finally come for the bride to walk down the aisle and begin their new life together as wife. Help make their special day even more memorable with a custom wedding gift for her from Personalizedgiftsguru. From wedding day accessories to keepsakes, everything you can find here.

Classy is the name of the game with our handsome personalized Pin Stripe Cufflinks. These engraved, ..
$38.46
Unique Personalized Wedding Gifts Ideas
Wedding gifts are one of the best ways to send wishes to your friends or anyone close to you who is getting married. Personalized gifts make a thoughtful choice to send gifts on this occasion.There are many Collection of gifts that can be personalized.
When we say personalizing there is a lot being said in the gift. Feelings are the most precious thing to handle. If not correctly expressed it can be miss interpreted. So with personalized gifts you can never go wrong as it has all that you would want to express it to your loved ones on Their special day. Imagine you seeing your name on a gift that you always wished you would receive it. So same goes to your loved one who will receive your gift. Their smile will be because of you and that's when you will feel the real satisfaction of gifting a perfect present.
-Personalized Wedding Gifts Design for Her
When choosing gifts for her you can go with traditional gifts but to make it extra special personalize it with her name, message or date. There can be multiple options to customize the gift. The whole idea of gifting a personalized gift is to make it the best ever expression on the special day. So with the engraved jewelry gift you can bring a charm to her beauty. So you have locket, ring and many more options that can be personalized.


-Choose from Personalized Wedding Picture Frame
Customize picture frame makes another good example of saying it right through your special moments. Enlarge her or his photo and frame it in a personalized frame. This makes a beautiful custom wedding gifts for her as she will always cherish the moment she has made memories of!
Photo frames have always been the special gift because it has always grabbed everyone's eye and touched millions of hearts. So with this gift personalizing adds just a tinch of personal touch which is always warming to the recipient.
So choose from our wide range of personalized gifts for weddings that will make your day as special as you dear ones. Personalized you gift with anything that you would want it for her and you make a perfect gift!