Customized Bridesmaids Gift Ideas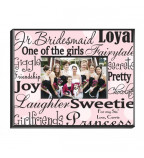 If you want to appreciate your friend's efforts in accompanying you on your important day, then gift her personalized item and see her smiling face. With Personalized gifts for Bridesmaids you can create a special memory which will stay with you lifetime, so just send it today.
About Personalized Bridesmaid Gifts Ideas
Bridesmaid gifts are the best way to respect their special support and be thankful for their help during marriage. It is a kind of thank you favor to greet someone's special help. Consider to their special favor with personalized gifts online. Personalized gifts showcase your individual interest to appreciate someone. It is a special approach that recognizes that gift is specially made for someone you respect from heart. Customized gifts are engraved with the special characters. This is a unique and stylish return gift to be thankful for their hard word to make this event a special one.
Personalized Bridesmaid Gifts:Tote Bag, Pillow Case and More
If you are going to get a gift for the lady personalized tote bag is a perfect gift. Tote bag is handmade and light weight and flexible. Most importantly this is engraved with the bridesmaid starting alphabet. if you wish to get something that is useful, buy personalized pillow cases online. That will help her into get deep sleep after the hectic schedule of marriage event. The pillow cases are embroidered beautifully with your friend's name. You can buy it online any time of the day.
Unique and Useful Personalized Gifts for Honor and Your Bridesmaids
Flaunting gift is just here to show your pleasure behind her special task. Engraved photo frames are a special gift to make this moment a memorable one. a well designed photo frame is beautifully customized with bridesmaid name alphabet. If you wish you can also frame memorable photo inside. A personalized flip flop customized coffee mug, personalized scarf, and personalized t-shirt. There are ample of choices of engraved gifts to choose from. You have all the choices to mark this celebration. Handover the token of thank you with the special gifts designed for bridesmaid. You can really book a special space in her heart with such an award winning gifts. So if you want to buy personalized bridesmaids gifts, this is a one stop shop for you. Order your gifts now.