Personalized Gift Ideas for Mom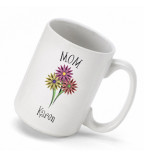 At Personalizedgiftsguru we have created a collection of Personalized gifts for mom that is outstanding and unique same as mom. Items like Personalized Mugs, jewelry are practical and useful gifts for your mom. But not only that even the pampering items like Cosmetic bags, Pashmina scarf's, Flip flops and many more items can be personalized mother's day gifts for your dearest mom.
Online Personalized Gifts for Mom
Gifting mom has to be very special. She is the reason for your existence. On any occasion, wishing her with true gift would make her life even special. At personalized gift guru, we have a special personalized gift collection dedicated to all mommies. These gifts are easy to personalize and fit perfectly in your budget. May it be her birthday or just another day to thank her, personalized gift can be the best choice. Our personalized gifts for mom section, bring all those exciting memories back when you personalized it with your name or photo. If you need to know why personalized gifts then read….

Honor the Mom with Personalized Mother's Day Gifts
Think of all those times she has dedicated her happiness just for your comfort. Aren't they special? On this mothers day, gift her something that just belongs to her and no one else. Think of a photo that you can just slide into the frame and gift her or honor her with a personalized accessory.

Personalized Jewelry Gifts are the most exclusive one that just belongs to her. This piece of jewelry can just make her day special every time she sees it on her neck. The engraved locket can be the best idea to honor her with appreciation and love. There is no such occasion needed to thank her, every day is a day that can be special for her if you think of doing it.
How can you not plan anything for her birthday? You must gift her something that she would cherish forever, that gift can be personalized birthday gift. Personalized Gifts for Her at our store has all the collection that would just make her day special. We all know mom have the hardest job to do and thus we have selected these exclusive gifts just for her. The unique personalized gift includes home decor, kitchen gifts and photo frame. In addition to this, we also have luxury jewelry that completely makes the day unforgettable when gifted to her. Engrave your name on it and this piece of jewelry will be her favorite accessory to wear daily.
So, whatever be the occasion, thank your mom and appreciate her with the best gift that she definitely deserves. Send best wishes as well to her when you are not there beside her.