Customized Groomsmen Gifts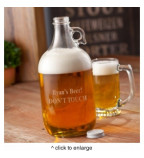 Customize Duffle Bag to Personalized T-shirt; there is a lot of option to give a special gift with personal touch to your best men on your wedding. These Personalized grooms gift ideas will make your wedding event a memorable one and your friends will cherish your gift for lifetime.

Award your bachelor party attendees or groomsmen with this hilarious mug, offering a merit badge for..
$35.48

James Bond would love these! Our personalized Secret Agent Cufflinks come in a handsome gift box and..
$68.69

A unique gift for the newly-married couple or the couple married for 50 years, our Personalized Coup..
$80.14