Customized Men's Accessories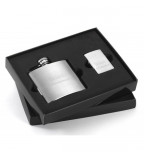 Shop of personalized men's accessories, time to bring new stylist look accessories for man? Then it's time to check out our modern yet personalized accessories collection. Shop now and find classic travel kit, pocket watch, jewelry and more with personalized touch.
Personalized Mans Accessories Ideas

Looking for a personalized man's accessories? We have ultimate collection of customized man's accessories including Money clip, jewelry, leather wallet and more. Give him something that he truly loved with expert personalization on the unique gift for him that you choose.

Personalizedgiftsguru will help you find and make excellent personalized accessories for man. Whether you are shopping gifts for boyfriend, dad, son, friends or a brother, we are the first sweet home for you to buy personalized gifts.

When you're looking for a personalized accessories that makes a statement , look no further more than our wide range of elegant silver pocket watch and zippo lighter. From simple gunmetal pocket watch that can be engraved with a special message to rugged black with roman numerals and cigar case flask engraved with a personal touch, we offer a wonderful assortment for special occasions.

Our men's luxury range of leather accessories for men has become synonymous with style and sophistication. Buy classic leather gifts that will never go out of style, from modern leather catchalls and watch boxes to personal journals, money clips and wallets. A place to store men's accessories is always a prudent choice for the man who has everything. Beautifully crafted keepsake boxes and wood organizers come engraved with stylish personalization, making them the perfect keepsake gifts for any occasion that requires a gift of classic sophistication.

Classic, yet gifts. And why not? They have the perfect Personalized accessories for men for any occasion, a great place to find best ever personalized men's accessories. That's why when you shop personalizedgiftsguru, you can always be sure to find an incredible mans accessories gifts with free personalization.