Personalized home decor gifts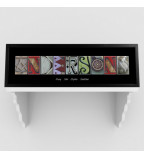 Make your house a home, by personalizing a part of your furniture. These personalized home décor gifts will give a touch of class and elegance. We have lots of idea to make your item personalized whether its fixed or moveable.
Add Touch of Excitement in your Home with Personalized Home Décor Gift
If you are excited to give a gift that can make your gifting memories alive in their mind, online personalized gift is the best choice. When you engrave a personal name on frame, picture, coffee mug, keep sake box it creates an impression that it is made for someone special in the world. Whether you are looking for wedding gift, birthday gift, Christmas gift, baby shower gift, housewarming gift, in every occasion personalized gift add a touch of excitement.
There are unlimited home décor gifts like rectangle or square black frame engraved in style. For decoration hall or bed room you can ask for personalized blanket, doormat, candle stand, table top décor, vase and pillow case can be personalized with style. To add personal touch to the kitchen you can buy a personalized coffee mug, wine glasses, wine bottles, bowls, aprons, cutting boards, knife, pizza pan, mason jars, platters. For the home décor gift there are unlimited utensils you can personalize in style.
You can add more personal touch in to their bar corner using personalize wine bottle, personalized wine glasses, beer mug, coasters, champagne Flutes, flasks, wine accessories, cigar case, personalized lighter, wine accessories and many more you wish to custom.
We have given you the examples of what are the Best home gifts you can personalize and send a gift to your closest one on their auspicious occasions. Nothing will make them much happier when they see the gift solely personalized and buy for them only.