Engraved jewelry gifts, customized jewelry gifts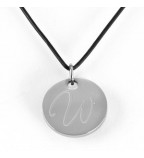 Whether it's a Pendant, bracelet or ring, you can personalize all your Jewelry to make it special and memorable one. Evan the Box containing these jewelries can be personalized with the name of the recipient and the year of gift to make it special.
Find Personalized Jewelry Including Personalized Necklace, Ring, Ornament.
Personalized jewelry has its very special mark in the heart of the recipient. Everything is possible these days and so is your piece of jewelry that can be personalized for a gift to someone or to yourself. There are many ways you can do it, but the best is something that is already marked just for you. Here are some of customized jewelry gift for him/her that can be gifted on any occasion.
Here some handpicked personalized jewelry gifts for your loved one's:
1-Engraved Necklace
May it be for her or for him, this unisex pendant set makes a memorable gift for special one when it is personalized. The engraved jewelry gift with the initials of the name makes truly a thoughtful and memorable gift. There are plenty of options available in the style of the necklace. So suiting the style you can get it personalized for him/her.
2-Ornament
An ornament with a meaning to it adds a special memory. Personalized ornament like "Irish ornament" could be a perfect gift to set a special mark in his heart. Gifting this on any occasion to him can never make you go wrong. A right choice for your man to carry this memory everyday along with him to get more strength and support that you bestow on him.
3-Bracelet
An inspirational leather bracelet with engraved cross is a strong and sturdy one for your men or women. It is suitable for both him and her. The combination of stainless steel and leather simply adds a contemporary feel. It gives a class lobster clasp that means it will always be secure. However, there are color options available in this with an adjustable size so perfect for one you want to make a part of your special moment forever.
4-Ring
Are you going to propose your love? Or want to make it a special date with him/her? Here is the perfect gift to capture this beautiful moment. A personalized silver plated heart trinket box is perfect for your love. This box has a set of two rings that matches each other's design. When you bestow it upon him/her, you too can accompany mark this moment special together!