Customized Anniversary Gifts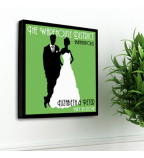 Memories are the best thing to gift, then why not make it personalize and gift it. Send personalized anniversary gifts made exclusive for both "he" and "she". Collection of photo frames, bed cushions, mugs, cufflinks and much more gift ideas for anniversary to choose from.
Tips On How To Choose Perfect Personalized Anniversary Gifts!
Personalized anniversary gifts are the best ways to signify how much you care and love to your dear one. Choosing the best gift for anyone is very difficult, but it can be tricky. Do some research and come up with some great ideas for anniversary gift which will be always appreciated.
1. Check out the weeding year, which is celebrated by the couple.
You have to know about wedding year of a couple's life. Whether it's 1st or 5th or 25th anniversary. So you can select the anniversary gift ideas for couple for them according to wedding year.
2. Check out the list of traditional or unique anniversary gift for her/him which are already listed. You have to decide whether you want to go with traditional gift or modern anniversary gifts.
3. Once you picked up the category of gifts, then after think about creative gift ideas which are cherished by the couple.
4. Make the plan for sending a couple on holidays or arrange honeymoon again with personalized honeymoon gifts for them.
5. Still having problem with unique anniversary gift ideas, then, go with an anniversary photo canvas studio or photo frame, which is created best memory of life.
6. Another personalized wedding anniversary gifts reserve is the gift of couple luggage tags or a couple pillow case set.